The Federation of Media Employees Trade Unions, FMETU is pleased to announce a major stride forward in its efforts to protect journalists'   rights and enhance professionalism amongst Journalists in Sri Lanka
This is facilitated by FMETU – IFJ (International Federation of Journalists) Union-to-Union program 2022.
The primary objective of the FJ-UTU 2022 program is to strengthen the professional rights of FMETU member journalists and media workers.  In this context, we are collecting information on the professional status of a representative sample of journalists, island-wide and presenting this information through an online database.
The project also facilitates us to empower young journalists by linking them with senior journalists and discussing with them about professional rights and responsibilities of journalists and the role of media trade unions. The young journalists are being empowered further by training them on mobile journalism and supporting them to produce 15 short videos on professional issues.
The IFJ-UTU support program for strengthening regional media organizations is managed annually by the IFJ Asia Pacific office. The main objective of the program is to equip members with the necessary knowledge and skills to play an effective role as a trade union in the new global digital economy. The program is designed to educate journalists and media workers in order to lobby and stand up for the basic professional rights of journalists.
FMETU kicked off the project to empower members with two webinars in the local languages, Sinhala and Tamil languages with the participation of 300 journalists from all over the country.
On September 3, the training on mobile journalism will be conducted through a full-day workshop. The lead resource person is Dr. Sameera Thilakawardena, Ph.D., a Communications expert, specializing in digital media and cinema.
After the training, 15 investigative videos on professional issues and challenges faced by journalists and media workers will be produced and shared through the fmetu.org website.
At the conclusion of the program, an analytical report on the professional issues and challenges of journalists will be released on the internet through fmetu.org. The Federation of Media Employees Trade Union also intends to present this report to the relevant Government authorities and lobby for critical changes.
The Secretary of the Federation of Media Employees Trade Unions told fmetu.org that the primary objective of this program is to establish a group of professional journalists who are entitled to social security and other rights enjoyed by employees in Sri Lanka.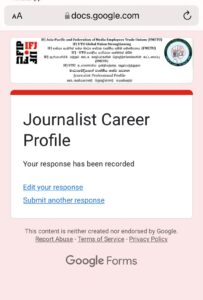 FMETU invites   journalists who are interested in joining the campaign to register their support by logging on to the link https://tinyurl.com/FMETU-PROFILE before 5 September 2022