Press release
September 29, 2022
Repeal the anti-human, oppressive "Official Secrets Act" immediately!
The government has issued a gazette notification naming a large area in Colombo city, government buildings, and jurisdictions as high-security zones. The Sri Lanka government was seriously accused of publishing this gazette by abusing the "Official Secrets Act", which has not been used by any government in the recent past.
The gazette issued on September 23 said that the written permission of the police was to be obtained six hours in advance to hold any people's march or public assembly within the designated "High-Security Zones".
The police department has broad powers to arrest anyone who entered these zones, and those arrested can granted bail by only High Courts.  It is clear that the government is taking steps to use illegal force against people who stand up for peaceful assembly and freedom of expression with these severe restrictions.
World human rights organizations and many other organizations are forcing the government to withdraw these new regulations have been imposed as illegal restrictions on freedom of speech and freedom of expression.
The Sri Lanka Bar Association has made a statement and said that the government is trying significantly curtailing the freedom of the citizens without any reasonable or legal basis. The Sri Lanka Human Rights Commission says that the basic rights of the people of the country are severely violate by this Act. It has been further suggested to the government withdraw this outdated law.
The Federation of Media Employees Trade Unions (FMETU), which joins hands with the world's largest media organization, the International Federation of Journalists (IFJ), strongly urges the Sri Lankan government to withdraw this anti-human law immediately.
Yours Faithfully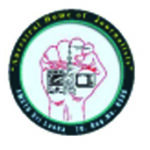 Dhamasiri Lankapeli
General Secretary
077 364  1111